Developing your local traffic is a great way to target some of the low-hanging fruit, not to mention lots of insurance-related traffic tend to tie closely to local cities, zip codes, and local trends like weather and laws. Developing your website to be an authority within your target cities and metro areas is almost required for success in today's online search environment.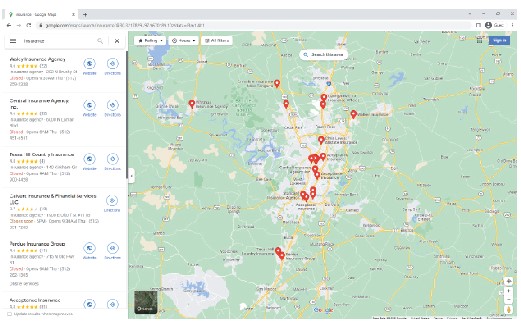 Local SEO Keyword Research
When developing your local SEO keywords, you will sometimes need to get creative, especially in cities with lower population density.
First, you will want to gather your main keywords like "auto insurance", "home insurance", etc., and incorporate them with your target cities. Later you will want to develop local pages for your target cities, an example is "auto insurance Atlanta".
After a healthy list of your main keyword and city combinations are complete, you will be able to expand to other topics that are related to your keywords. A few great resources to accomplish this include Google Suggest, Yelp Suggest, Thumbtack Suggest, Local Voice Seach, Google Keyword Planner start with a website option, SEMRush, and more.
Incorporating these local keywords into your service pages, local pages, and blog content will develop your local authority for your targeted local keywords.
Google My Business
Your Google My Business listing is a major asset to your online campaign, some consider it to be more important than the website itself. When creating your listing it is important that all your info is 100% correct and consistent. Also, be sure to fill out every possible data field within your GMB profile and include images where possible. 
After your profile is complete you will use this profile as a guide to all future listings, it's important that all other profiles on sites like Yelp and Yellow Pages match exactly your GMP name, address, and phone number or NAP. A correct and consistent NAP through all online properties is a major ranking factor.
In addition to your local rankings and search appearances, developing your GMB profile will have you appear locally on Google Maps for additional lead opportunities and local customers
Local Ranking Signals
As with general SEO, the number of ranking signals for a local campaign is astounding so we are going to cover just a few we feel stand out.
As mentioned your NAP appearing online is a major signal and it is consistent so a NAP audit is required, to correct the NAPs with errors. With the correct NAP, you can move on to citation development, citations being anywhere like Yelp or Yellow Pages that list your NAP.
Another major signal is online reviews. Google reviews, Facebook reviews, Yelp, and more are all taken into consideration. Showcasing these reviews on your website can help search engines correlate the reviews to your business. Search engines will also take into consideration data like user sentiment, user check-ins, and keywords used in the reviews themselves on how they relate to your business. 

Website updates like SCHEMA, social media links and share options, city and keyword usage, local pages targeting cities, title tag cliffhangers, and locally targeted content can all develop your authority and rankings for local traffic.
Off-site updates outside of your NAP usage can include backlinks. Backlinks from trusted local sources like your Chamber of Commerce or local news can be a major asset in your local rankings and traffic development so be sure to incorporate a backlink where possible into local events and activities your agency is a part of.
Additional Local SEO Tips and Strategies
A few pro tips to incorporate into your campaign when developing your local SEO:
Develop a local city page for each targeted city, especially for each business location

Include SCHEMA

Embed a Google Map

GEOtag images

Use location-focused keywords above the fold

Optimize the title tag and meta description for local search

Embed a Google Map on your About page

Use Your Location-Focused Keyword Above The Fold

Title Tag Double Dip
Fusion Digital Marketing is a full-service industry that provides your insurance agency with end-to-end online solutions. Contact us today for a complete analysis of your campaign and proposal for services customized to make your agency succeed in online lead generation.