Paid advertising for insurance agencies is a great way to jump straight to the top of search engines and target the premium qualified leads of customers actively looking for insurance services. Best of all you can target them on age, insurance type, location, and more. 
Types of paid ads include:
Search

Display

Social

Video

Retargeting

Price comparison services

Native advertising

and affiliate services. 
Each type of paid advertising is different and has its pros and cons. 
Ad Networks
Ad Networks are services that place your text or display advertisement onto a network of partner sites in front of interested users. 
Some of the more popular networks include:
Insurance ad networks like Surehites and MediaAlpha have the data and platforms required to put your ad in front of the right insurance prospects when they are actively looking for quotes.
Different ad networks host different audiences. Facebook continues to be favored by Gen X, while Gen Z, the newer generation, is currently trending toward TikTok. 
Outside of age groups, we can target interests; for instance, LinkedIn hosts audience audiences with business interests, and Spotify or Midroll hosts music and podcast audiences.
Targeting is another major factor when choosing your network, as each network has different ways of targeting. Ad network targeting is the parameters you set when creating your ad and choosing whom you want to deliver your ad to, this is essential to getting your ad in front of your correct audience. For instance, Instagram uses Facebook's ad targeting, which is more nuanced compared to Google Ads targeting, which has the benefit of a wider potential reach. 
Other ad networks like InMobi have less nuanced targeting of the audience characteristics but instead contain audience groups like college students, car shoppers, and fashion enthusiasts.

Ad Copy
Ad copy is a form of marketing communication that promotes a product or service in the context of an advertisement. The ad copy writer's goal is to get potential customers to want to purchase insurance services offered by your agency.
Great ad copy generally follows four rules, the first is to solve a problem. Some common techniques in insurance advertising include cost savings, time savings, testimonials, account services, and benefits.
It is also important to trigger an emotional response. Some people know what they want and are in urgent need of coverage, while others may be casually comparing quotes to their current rates and services; it's these casual shoppers we need to encourage by creating an emotional response. Rather than stating your key selling points as in "24-hour account access, low rates, and personal service" highlight the benefits as in "Keep your family protected."
The next rule is to focus on the benefits and not the features. Stating "Save 5% today when you sign up online" is better directed at the user than "Vist today for a free insurance quote."
The last rule is to build urgency. Examples of building urgency in insurance setting deadlines in your copy or when terms and rates are changing within a particular insurance service. 
Landing Pages
A landing page is a page the user lands on when entering your website from a source like social media, organic listing, email, or paid ads. Its purpose is to convert users into customers. 
Every landing page follows specific criteria, and the first is that every landing page needs to have a conversion point or call to action. The conversion point can be a form, phone call, messenger, or anything that converts the user into a possible customer. The second is that the page's sole purpose is to convert the user into a possible customer. By this criteria, a home page would not be considered a landing page because a home page has more than one purpose.
After launch, you will want to test and adjust your design constantly. Conversion Rate Optimization (CRO) involves testing what designs work, page layouts work, or anything else that affects the user experience and generates the most conversions. Ways to test your landing page include:
Surveys

Heatmaps

A/B Testing

Form Analytics

Session Records
Utilizing Google Analytics, Similarweb, Hotjar, Mixpanel, Chartbeat & Clicky analytics software will collect the necessary data needed for you to analyze your campaign. 
Retargeting
Traditionally, paid ad campaigns cold targeting of never before contacted users through specified criteria like age and location. Retargeting campaigns target users you have already been in contact with, for instance, those that have already visited your website, tracked property, or are targeted through a database you provide, like cold prospects in your AMS. 
Retargeting of users is done mainly using two techniques, pixel retargeting and list retargeting. Pixel retargeting is a bit more common as it is a way to re-engage with past website visitors anonymously. This is done utilizing an unseen piece of Javascript (often referred to as a pixel) shown on your browser, making the browser cookie you as a user. When you continue to view other web pages from your browser, the cookie sets off a retargeting platform that serves you a specific ad.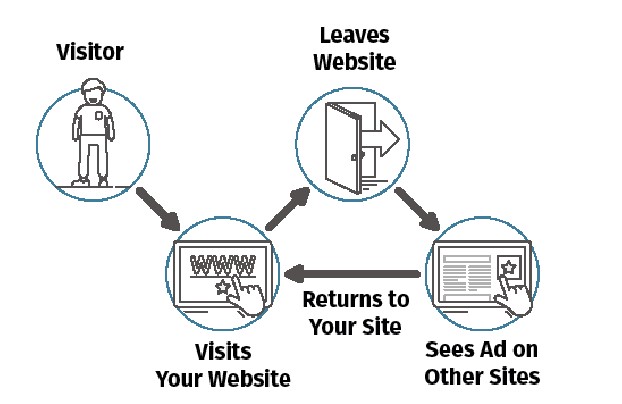 The use of retargeting in most campaigns is to achieve several goals. Goals include generating awareness of your brand or services, completing the buyer journey by staying in front of users after they have researched a similar topic earlier in their journey, increasing conversions or reducing form abandonment by getting in front of users after they have dropped out of a quote form, increasing your customers lifetime value by staying in front of them when researching certain topics and competitors, or introducing new services to current customers. 
There are many retargeting platforms as almost every paid ad service offers it in one way or another. Some of the more common retargeting platforms include:
Google Adwords

Sharpspring

Adroll

Retargeter

Facebook Ads
As always, make sure you track progress and update your audience databases when needed. Retargeting requires testing, optimization, and maintenance.
Pro Tip: If you use a CRM, you can sync your existing client and prospect lists with your retargeting platform to create audience members to target or members to ignore
Lead Providers
PPL or Pay Per Lead is an affiliate marketing program that allows agencies to purchase qualified leads directly from the affiliate with no ads, websites, or SEO. These leads must meet a minimum quality standard that the advertiser and affiliate agree to at the beginning of the campaign.
The cons of PPL are that the system can be abused by the affiliate, causing issues for the advertiser. Common issues include not meeting the quality criteria, selling the leads to multiple advertisers, or using non-ethical methods of generating the leads.
Fusion Digital Marketing is a full-service industry that provides your insurance agency with end-to-end online solutions. Contact us today for a complete analysis of your campaign and proposal for services customized to make your agency succeed in online lead generation.